NO EXPERIENCE PREFERRED

Available Positions
Players (Crew Members)


Helps keep our restaurant running smoothly every day.

Head Coach


Leads our team to provide exceptional experiences for our guests.

Lead Kitchen


Responsible for overseeing food, preparation and execution processes.

Shift Supervisor


Manage and train staff to ensure they are always exceptional in service.
Make a Difference!
At CoreLife Eatery it's our mission to provide great tasting, scratch made healthy food that powers our active lives. We are building teams to bring the CoreLife Eatery experience to more and more communities and we need Champions for our local teams. If you want to make a positive difference and be a part of giving people a healthy choice in their lives, CoreLife is a great choice for you!
REAL FOOD IS ALIVE
AND HAS A STORY.
We are excited to teach our people an understanding of where our food comes from, how it was grown and most importantly how does something so good for you taste so incredible?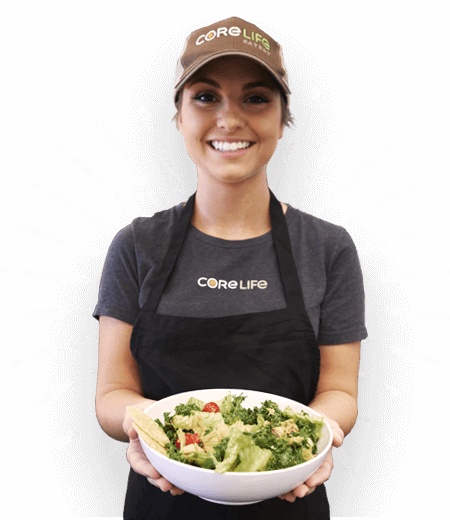 We Want to Promote Unlimited
Peak Performance for Everyone
We're on a mission to spread the word about the food we eat and raise awareness to the power of real food. We create all of our meals and drinks from scratch every day in every location and use clean and sustainable ingredients for the best taste and best nutrition.
This isn't the easiest way to create a restaurant business, but we know there are plenty of active people out there looking for a real solution every day.
These are all great ideas, but we need people to work with us to live them. Maybe it's just as a great part-time job, or maybe you want to work full-time at a place that has plans on growing rapidly – either way, we are interested in active people that want to be part of serving and preparing real, clean food.