Yoga/Barre/Pilates Feast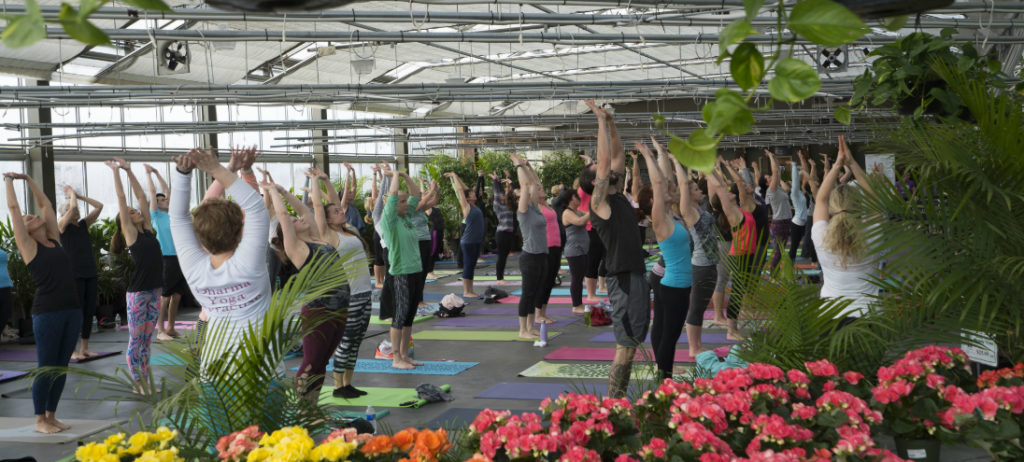 Saturday, November 11, 2017 & Sunday, November 12, 2017
CoreLife Eatery/Chuck Hafner's Farmer's Market 
7265 Buckley Road, Syracuse, NY 13212 
Spend the weekend with us and leave feeling restored, renewed and replenished! 
This two-day event has something for everyone including yoga, barre, and pilates classes – there's plenty to choose from! In addition, there will be giveaways, a vision board workshop, the Hafner's Christmas shop, CoreLife Eatery food, and vendors.  
All classes are donation-based with proceeds benefiting Ophelia's Place, a national leader in redefining beauty and health by empowering individuals, families and communities impacted by eating disorders, disordered eating, and body dissatisfaction. 
Register Now!
Event Schedule
Saturday
9 am – 10 am: Hikyoga, taught by Taylor Foster, Certified Hikyoga Instructor
Hikyoga is excited to kick off the feast with a 1-hour all levels vinyasa flow class. Class message will help you connect body and mind. Flow will begin with a brief grounding sequence and flow into a set of postures that will help to realign the body and end with a short, restorative meditation that will leave you feeling refreshed for the weekend! More info: http://www.hikyoga.com.
10:30 am – 11:30 am: Dharma Yoga Syracuse, taught by Saraswati Om
This class also continues to deepen pranayama (breathing) & meditation techniques. This is the beginning level of the Dharma Yoga series. Students will practice and be introduced to Dharma Yoga Shiva Namaskar Vinyasa Level I to warm up the body, bring flexibility to all muscles and joints, and wake up the nervous system. A gentle yet powerful series of balancing, stretching, back bending, twisting and mild inverted postures will follow. This practice ends with Deep Relaxation, breathing exercises, and concentration/meditation to remove impurities and bring a sense of well-being to the body and radiant peace to the mind. More info: http://www.dharmayogasyracuse.com.
12 pm – 1 pm: O Yoga Studio, Vinyasa Flow taught by Erin O'Toole
Vinyasa Flow is a style of yoga where poses are seamlessly woven together with an emphasis on linking breath to movement. In a Vinyasa Flow class there is a great sense of fluidity and opening. Participants of all levels will discover the power of moving with intention and grace. More info: http://theoyogastudio.com.
1:30 pm – 2:30 pm: Pure Barre, Pure Barre Classic taught by Cathy McKie
The Pure Barre technique is a combination of pilates, yoga and strength training. This low-impact, challenging work out is designed to protect your joints and is accessible to all shapes, sizes and fitness levels. Each strength section of the workout is followed by a stretching section in order to create long, lean muscles without bulk. The technique works to defy gravity by tapering everything in and lifting it up! The concentration involved while taking Pure Barre allows you to block "life" out for the hour, creating the mental benefits similarly obtained by the practice of yoga or meditation. More info: http://purebarre.com/ny-syracuse/.
3 pm – 4 pm: Core Pilates & Yoga, Pilates Mat taught by Valerie Patrick
A mat-based overall body conditioning class that will develop core and back strength, increase flexibility, coordination and balance. For the body to be strong, the core must be stable. Emphasis is placed on all the Pilates principles including proper alignment and breathing. No other class will give you a long, lean and toned body. A ¼" or ½" mat is required. More info: http://www.corepilatesyoga.com/index.php.
4:30 pm – 5:30 pm: Zanshin Yoga, Zen Yoga taught by Amy Ligoci
Zen Yoga merges the flowing movements of Tai Chi, the energetic breathing of Qigong and the gentle stretching of Shanti Yoga. Zen Yoga calms and rejuvenates your mind. Join us in creating flexibility, health, vitality and peace of mind with gentle movements and mindful breathing. More info: http://zanshinofcny.com.
6 pm – 7:30 pm: Vision Dream Board Workshop presented by Brass Rings Coaching
A vision board is simply a collective name for a wide variety of inspirational collages created from pictures. It's a pictorial representation of your vision—and a powerful way to make your dreams more tangible and attainable. That's because the very act of creating the vision board tells your mind what's important. You're teaching your mind what you want to focus on in your life. You'll begin with a visualization exercise and prompts to dig into your deepest dreams and goals. Collage work and connection will begin! Cardstock, magazines, scissors and glue sticks will be provided.

Sunday
9 am – 10 am: Barre3, Classic Barre taught by Jennifer Rubin
Barre3 mixes the wisdom of yoga, the strength of Pilates, and the grace of ballet barre work to deliver a full body workout. All movements are low-impact and are designed to tone and lengthen all major muscle groups, rev your heart rate and strengthen your body to one of equal balance, strength and flexibility. All fitness levels welcome, as we offer ways to adapt each posture. More info: http://barre3.com/studio-locations/syracuse.
10:30 am – 11:30 am: Syracuse Yoga, Yoga for everyBODY taught by Sophie Tashkovski
Yoga for Everybody, Yoga for EveryBODY! Come learn and grow your practice, continue your yoga journey with seasoned yoga teacher Sophie Tashkovski, owner of Syracuse Yoga (recently named Best Yoga by the voters in the Syracuse Newtimes Poll!) This all-levels vinyasa style class will focus on foundational yoga poses, proper alignment and flexibility, all while improving core and body strength. More info: https://www.cuseyoga.com.
12 pm – 1 pm: Bodhi Barre, Barre Mat class taught by Colette Meltzer
Bodhi Barre is a fusion of ballet, yoga, pilates and core strength training. It's a dynamic total body workout that will strengthen, lengthen and tone your Bodhi! We will use resistance bands to work our arms, thighs and seat, in place of the ballet barre which we utilize in our studio. Please bring a mat and wear sticky socks if you have them, bare feet if not. More info: http://bodhibarre.com.
1:30 pm – 2:30 pm: Disordered Eating Education, Intervention & Prevention Training for Fitness Providers presented by Holly Lowery of Ophelia's Place & Circles of Change, Sponsored by Syracuse Yoga
This training will provide a baseline understanding of the types of eating disorders and disordered eating patterns that exist in the world of fitness, health and wellness. Attendees will learn warning signs, gentle ways to approach someone, trusted resources to point them to for help, and suggestions on how to nurture an overall safe and empowering environment.